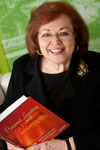 Karren Kowalski, PhD, RN, NEA-BC, FAAN is the President and CEO of the Colorado Center for Nursing Excellence.
Dr. Kowalski has served as Project Director for three HRSA Grants on Leadership Development and for the Colorado Trust grant on Frontline Leaders Leading a Quality Initiative and project director for the Clinical Scholars project funded by the Colorado Department of Labor and Employment. She is a Professor at Texas Tech University Anita Thigpen Perry School of Nursing and teaches part time in the DNP program in Nursing Administration. She previously served as Asst Vice President and Administrator of Women and Children's Services and Chairperson of the Department of Maternal Child Nursing at Rush-Presbyterian-St..Luke's Medical Center and Rush University in Chicago.
Karren served in the U.S. Army Nurse Corps in Viet Nam. She was stationed in a Surgical Hospital north of Saigon, a hospital much like "MASH" and she worked both pre-op triage and post op, recovery and Intensive Care.
Dr. Kowalski completed her doctoral work in Sociology at the University of Colorado, Boulder, where her major areas of study were Leadership, Women's studies and the Family. She received her BS from Indiana University and her MSN from the University of Colorado and has held multiple leadership positions from the head nurse to director and administrator. She has served as Project director on seven major state and federal grants totaling more than $6.4 million. In all these positions, she has developed innovative and creative approaches to problem solving. She has authored numerous articles and co-edited five advanced textbooks, the latest of which is Beyond Leading and Managing, Nursing Administration for the Future, which she co-authored with Dr. Patricia Yoder-Wise.
Dr. Kowalski is the recipient of numerous awards and honors including state and national awards for leadership. Among these are the 2010 Florence Nightingale recipient, Distinguished Alumnae of the University of Colorado, School of Nursing, selected as one of the Ten Outstanding Young Women of America, and is a charter member of the Colorado Nurses Association Hall of Fame. She is a past president of the Colorado Nurses Association. She was elected to the American Academy of Nursing in 1981, speaks nationally and is known for her strong presentation style and teaching skills.